Innovative Measured Surveying Services
SolidPoint provide Measured Building Surveys that add value and innovation to your project
SolidPoint provides expert Measured Building Surveys and Land Surveys using the latest technology and workflows across the UK. Our goal is to make our 2D Drawings, 3D Models, BIM Projects and other survey data, easy for you to use and understand.
By constantly bettering our processes, we improve efficiency, therefore making our survey data more enjoyable to use, passing the benefits straight onto you.

3D Laser Scanning
Your Land and Buildings can be rapidly surveyed using 3D laser Scanners. This will provide an accurate existing or as-built 3D point cloud record of your land and buildings.

Measured Building Surveys
If you are planning a Refurb, extension or just simply re-jigging the space you have, then you'll need an accurate and reliable measured building survey to help you plan.

BIM - Building Information Modelling
If your project requires BIM then you'll need a reliable BIM-ready Survey. We are experts at Scan to BIM and will ensure you have a reliable and intelligent 3D BIM Asset to kick start your project.

Topographical Land Surveys
If you are looking to plan a development on your land, then a Topographical Survey or Land Survey is essential to inform your design and reduce errors later down the line. Aerial Drone Surveys
If you need a large area of land surveying rapidly, or struggle to access it. Then an Aerial Drone Survey is your best option. Provided as a 3D model or simple images and video. Revit Surveys
If you need your Measured Surveys in a Revit format, then we can help build this from our own point cloud data, or from 3rd party 2D Drawings.
Get a quote for
your project
Providing Measured Surveys to suit your needs
Our surveying services are tailored specifically for professionals who look to obtain reliable and accurate survey information to enable their design projects or development. If you fall into one of these categories, then you have come to the right place:
Property Owner/Developer
Architect, Engineer or Building Designer
Project Manager
Facility Manager
Fit-out or Space Planner
By helping you understand your existing space in accurate 2D & 3D drawings and models, you can be sure you get the best function and appeal from your project. If your work is in any of the following sectors, then we have a wealth of experience in providing the measured survey information you need:
Airports
Universities
Hospitals
Warehouse and Logistics
Residential Development
Prisons
TV and Film
Land Surveying:  3D Surveys in a BIM-Ready Format
It's pretty rare that you'll find a completely flat piece of land. We never have. All land has it's peaks and troughs no matter how flat you think it is. So is it correct to only draw it on a flat piece of paper in 2D?
We don't think so!
In fact, we stick by our thoughts and issue every Topographical Survey or Land Survey in a 3D BIM-Ready Format. It's our little way of encouraging the use of BIM (Building Information Modelling) from day 1 of every project.
Along with traditional 2D dwg and pdf files, we'll also send you a 3D model in CAD and Revit formats as standard. Perfect for your designer to start their 3D BIM Project, with everything in the right place.
Call For a Quote:
01332 898350
Getting the Drawings or 3D model you need to get your development or design moving is quite simple:
Give us a call on 01332898350
– We like to discuss your needs to ensure you get the right service to meet your requirements.
Define your project
 – We'll ask you to send us a simple sketch or screenshot indicating the land or property you require surveying. Any other information you can send us such as old floor plans, photos or a project scope is most useful. Email to
projects@solidpoint.co.uk
.
Proposal Specification and Timescale 
– We'll supply you with a proposal to carry out the work, along with a specification and the timescales for completion.
Sitework
– On site, we'll cause little disruption, putting to use our laser scanners, drones and robotic equipment to efficiently capture the raw data we all need.
Production
– We'll set to work producing the 2D Drawings and 3D digital model for your project. After that, we'll quality assess our work before delivery to you.
Lastly, Satisfaction
 – We love to hear your feedback. We love to better what we produce. So stay in touch and let us know what you liked, or, maybe didn't like about our service. We always try to ensure you are happy with our work as we aim for a long term partnership.
Quick Turnaround
We employ state-of-the-art technology that allows a quick turn around from the site work to data delivery.
Cost Saving
Due to the increased levels of accuracy, there is often little need for correction or re-working. Saving you both time and money.
High Accuracy
The 2D drawings, 3D Models or Building Information Models (BIM) we supply, can be completed to the highest level of accuracy and detail.
3D Measured Building Surveys – How it works?
Our unique Scan to BIM process, gives you peace of mind that your project will run smoothly from design through to build.
1. Laser Scanning
We use our 3D laser scanners to accurately record the building inside and out, producing an accurate Point Cloud Survey. 3D laser scanning is the most advanced technology for surveying. It allows us to measure the building rapidly to the highest level of accuracy. Resulting, in little disruption to you or your client, allowing you to go about your business as normal.
2. 3D Measured Building Survey
From the Point Cloud Survey, we obtained through 3D Laser Scanning, we then reverse engineer the information to produce the intelligent Building Information Modelling. This BIM serves as the perfect base for your future designs or facility management, providing you with a visual representation of your property and its measurements.
3. Building Information Modelling (BIM)
Building Information Modelling is becoming the construction industry standard for design and facility management. However, the surveying industry still produces most information in 2D formats! Therefore, creating the existing building as an intelligent BIM-Ready 3D Model is essential to hit the ground running. Allowing you to Focus on your design, leaving the existing phase to us.
4. The finished product
This finished product serves as an accurate measured building survey encompassing the 2D plans, sections and elevations, consistent with the 3D model. The information included can be tailored to the level of detail you require for your project. This workflow reduces the number of visits to the site. In addition, delivering reliable survey data that will pay for itself many times over through the life of the building.
How Can SolidPoint Help Your Project?
No matter the size of your site or building infrastructure, SolidPoint has the expertise and experience to ensure you receive the most accurate data. We present this in the most appropriate format for your project. Should you wish to receive more information regarding our services or enquire about working with us on your project, please don't hesitate to  get in touch. Please call us on 
01332 898350
  or email us at
 projects@solidpoint.co.uk
for more information on our services. We look forward to hearing from you!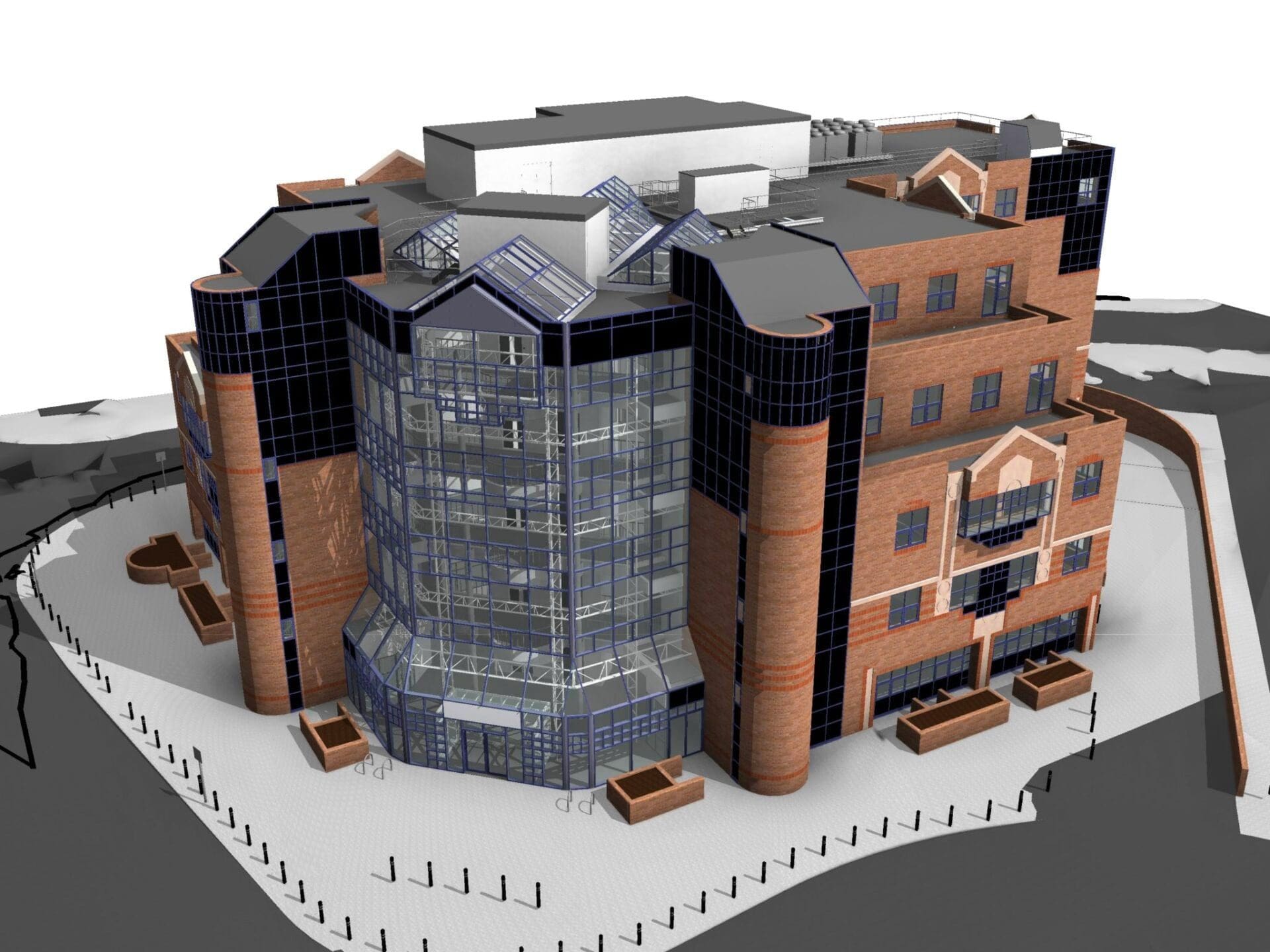 "The Point Cloud Survey SolidPoint provided us with enabled us to accurately reproduce an AD Plant. This resulted in us reducing the installation times on site as our fabrication designs could be almost perfect"
"The topographical survey you provided for us was just what we needed. We loved the drone 3D thing you sent us too, really useful. Look forward to working with you again."
"James and his team provided an accurate measured survey of a manufacturing plant, this enabled us to space plan a new installation everything ran smoothly and the survey allowed for an easy design"